Contract managers often work in a fast-paced environment with pressing deadlines. When dealing with an influx of emails containing mutiple documents, the lack of integration between an email platform and a contract management system can increase contract workflow inefficiencies. A user-friendly contract lifecycle management software system integrated with MS Outlook can help streamline your contract lifecycle. This can also help your contract managers, legal teams, procurement professionals and sourcing professionals save more time and reduce contract workflow bottlenecks.
This is the first part of our PC helper application series, demonstrating how source-to-contract management software users from various industries can integrate Microsoft Outlook with Contract Insight® to streamline contract lifecycle management workflow.
Streamline emailed document uploads
The MS Outlook PC plugin in Contract Insight® can seamlessly integrate with a desktop PC MS Outlook application. Users can maximise this tool for smarter, faster and easier source-to-contract management. The MS Outlook plugin toolbar, a helper application that cooperatively works with the PC Helper App, helps software users upload files from their MS Outlook emails directly into Contract Insight.
How to use the MS Outlook Plugin
First, Contract Insight users need to log into their PC Helper App.

Then navigate to the ribbon at the top of their MS Outlook email message.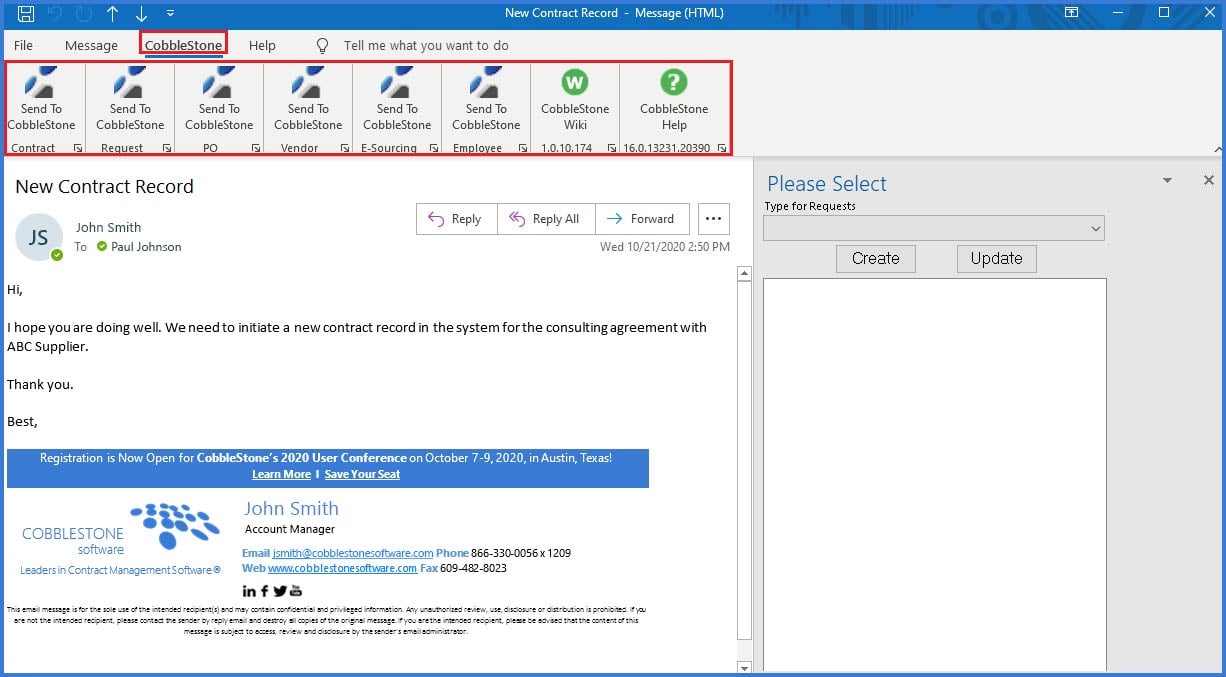 Subsequently, click the appropriate button to add a contract, sourcing, purchase order, employee or request record. These records can then be added, updated or opened on a web page. Some record buttons will open a right-side menu to further help with record creation.
Contract Insight's MS Outlook plug-in also allows users to extract essential data from emailed file attachments with VISDOM® AI, CobbleStone's proprietary artificial intelligence. Once a record is created, the contract lifecycle can seamlessly continue in Contract Insight.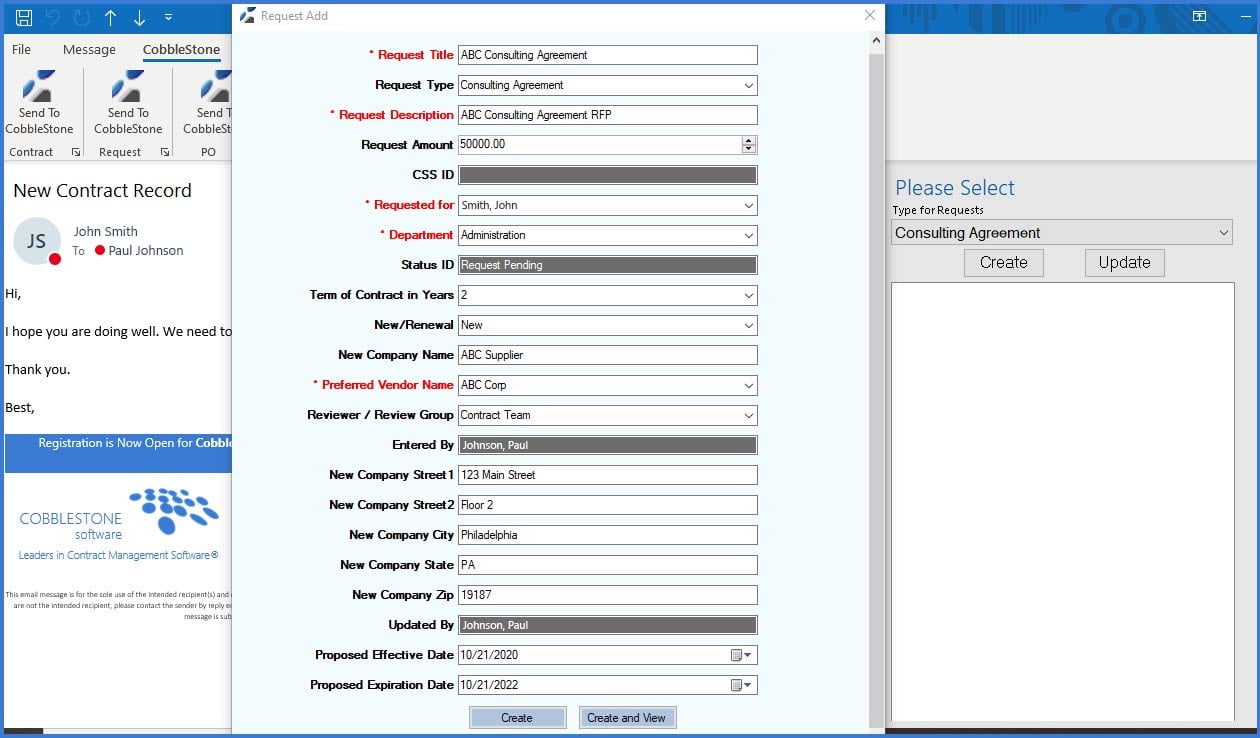 Uploading documents from emails directly to Contract Insight with the MS Outlook Plug-in can streamline the contract lifecycle management process.
Contract Insight from Four
Contract Insight is a cloud-hosted (SaaS) or deployed (on-premise) contract management solution. The acclaimed platform is trusted by thousands of professionals for their contract management, legal document management, procurement and sourcing needs. Used by many Fortune 500 companies, Contract Insight gives you real time visibility into your contracts. It doesn't just shore up your security; it will help you meet contract compliance regulations, centralise your contract management and improve your overall contract administration process.
For more information, contact John O'Brien, CEO at Four Business Solutions, global business consultants and software integrators providing business processes improvements in Finance, Supply Chain and Operations, across a broad range of industries.