Taking on healthcare contract management during the COVID crisis
Manual healthcare contract management processes can increase cost and liability, leak and decrease revenue, and bring about negative patient and personnel experiences. Outdated strategies can scupper a seamless contract lifecycle. Luckily, future-minded contract lifecycle management software can help. Here's how.
The COVID-19 pandemic has brought new challenges to healthcare contract management processes while highlighting many pre-existing process inefficiencies. Healthcare organisations and large health systems are facing ever-thinning margins. This situation has brought with it an industry-wide shift away from fee-for-service contracting models to value-based, complex contracting models and reimbursement structures. Despite this, most organisations still rely on manual approaches to manage thousands of payer contracts, vendor contracts and provider contracts. Do not fall behind with a stagnant healthcare contract lifecycle management process. Step into the future of healthcare contract management with a solution that supports organisations through both stable and unpredictable times.
Leverage a secure contract repository
Healthcare organisations and health systems manage various documents for contracts, employees and vendors. What's more, events such as the COVID-19 crisis and the increase of remote work have rendered manual document storage methods virtually obsolete. As such, a unified and digital contract storage system is needed.
Thankfully, leading contract management software offers a web-enabled repository. This secure repository can help healthcare organisations store contracts safely, retain document version control, locate contracts quickly, collaborate, track approval statuses and much more.
Contract storage is not defined merely by the locations in which healthcare systems and organisations store contracts and documents. It's also an opportunity for organisations to have contracts work on their behalf. When organisations leverage a secure, centralised contract repository proffered by leading-edge healthcare contract management software, they equip themselves with the right tools to reinvigorate their contract management practices.
Search, report and track
Reliable healthcare contract management software can give organisations many contract tracking tools for improved contract analytics, reporting and financials tracking.
Comprehensive audit trails can assist health systems with tracking software login attempts, contract data changes and healthcare contract viewing attempts. These audit logs include time and date stamps and information on users who have performed these tasks. Audit trails give healthcare contract managers greater control and oversight over contract lifecycles, including employee task performance.
For comprehensive spend management, contract management software users can use contract pricing and contract budget tracking tools. Healthcare organisations can track and monitor line items such as medical equipment, medications, laboratory items, face masks and other PPE, food and vendor-related costs. From there, comprehensive financial reports can be run. Organisations can receive budget alerts to stay abreast of key dates using vendor management tools.
Contract management reports
Ad hoc reports give organisations user-defined status reports, reports on financial commitments and reports on upcoming tasks etc. These reports can be quickly exported as MS Word documents, spreadsheets and PDFs.
An online report designer interface allows healthcare organisations to configure report layouts to display important information. Online report designers can include various exportation options – including MS Word, spreadsheets, PDFs, rich text, CSV and a myriad of image formats.
Executive graphical dashboards can give a detailed overview of key dates, activities and contract performance.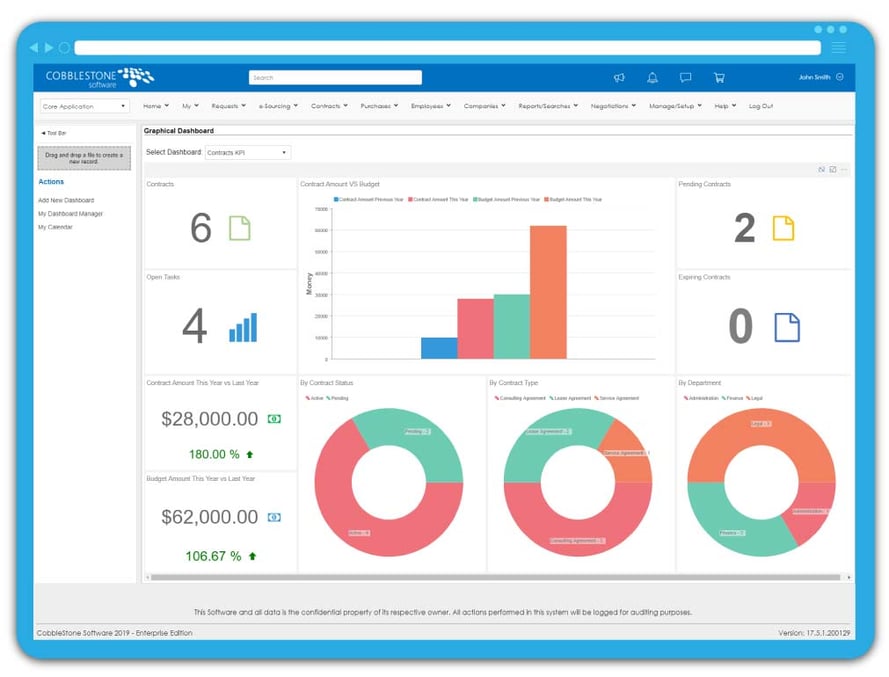 With the comprehensive tracking of financials and searching and reporting tools, healthcare networks, systems and organisations can keep track of contract data changes, spending and payments on a fully web-enabled interface.
Improve compliance management
Future-minded compliance auditing and reporting provide healthcare organisations with visibility into contractual relationships across many businesses and entities. Legal, regulatory and other healthcare compliance standards can be easily adhered to thanks to user-friendly and robust key dates, reporting metrics and renewal requirements.
Implement workflow automation
Healthcare systems and organisations can nowswap out error-prone, manual, and time-consuming contract management processes in favour of intelligent workflow automation.
With the help of nearly unlimited contract notifications, task reminders, and automated alerts, workflow automation can cut contract lifecycle bottlenecks by keeping the right people in the know at the right time. Intelligent automated workflow can transform healthcare contract management processes in the office or on the go thanks to robust and user-friendly features such as contract process management, the full audit trails mentioned above, reporting and analytics tools, user-defined fields and much more.
Automated contract workflows that help healthcare organisations and systems in tracking all contract lifecycle stages can enhance negotiations and approval oversight. It can help organisations meet key dates and milestones – through and including contract renewals – thanks to automated alerts.
With a workflow-backed, supportive, fully web-enabled and intuitive healthcare contract management software solution, organisations can easily transition to a procedure that improves employee accountability and vendor management while extracting more value from contracts.
Manage the full contract lifecycle
Healthcare contract lifecycle management software can centralise and automate the management of contracts, agreements, vendors, obligations and committals from requests through renewals. Key dates and alert notifications, contract data field tracking, intelligent contract writing, contract review, contract tracking and risk management tools are all ingredients for a contract lifecycle process that provides health systems and organisations with a comprehensive view of contracts so that essential aspects do not go overlooked. A user-friendly interface and seamless integration with various mission-critical applications result in high user adoption rates as well as rapid time-to-value.
Leading-edge healthcare contract management software allows health systems and organisations to leverage an AI-based contract management process for comprehensive contract and vendor management in the office or on the go and during normal and abnormal times, including tools such as:
intelligent automated contract requests
Intelligent contract writing with pre-approved clauses and templates from an organisation's dynamic, pre-approved library
an online contract negotiations
expedited approvals with online approval collaboration
user-friendly electronic signatures for easy document collaboration and short send-to-sign times
full post-execution contract management for compliance, obligations, and renewals.
Healthcare systems and organisations should leverage the assistance of credible source-to-contract management software that can save time, save money, reduce delays and allocate resources most effectively.
Transform healthcare contract management
It's time to embrace a future-minded approach to healthcare contract management. That approach should be the use of Contract Insight an acclaimed source-to-contract management suite.
Contract Insight provides industry-leading and widely celebrated contract management software solutions to many industries – including healthcare.
Contract Insight from Four
Contract Insight is a cloud-hosted (SaaS) or deployed (on-premise) contract management solution. The acclaimed platform is trusted by thousands of professionals for their contract management, legal document management, procurement and sourcing needs. Used by many Fortune 500 companies, Contract Insight gives you real time visibility into your contracts. It doesn't just shore up your security; it will help you meet contract compliance regulations, centralise your contract management and improve your overall contract administration process.
For more information, contact John O'Brien, CEO at Four Business Solutions, global business consultants and software integrators providing business processes improvements in Finance, Supply Chain and Operations, across a broad range of industries.
#contractmanagement #fintech #it #procurement #technology #legal #finance #financialtechnology #infosec #digitaltransformation #security #compliance #contractinsight #innovation #software #tech #dataprotection #digital #privacy #cybersecurity #enterprise #technologyconference #business #riskmanagement #softwaresolutions #supplychain #humanresources #globalmarkets #digital